News & Information for You & Your Pet
According to the Humane Society of the United States, five million cats and dogs—about one in every six and one half seconds—are put down in US shelters every year. Education is the key to breaking the cycle of animal cruelty, overpopulation, and uncontrolled breeding.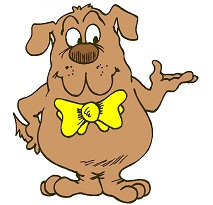 Identification Tags
Please make sure your pet has an identification tag with your phone number, and if your pet is microchipped, make sure the information is current so your lost pet can be reunited with their family. Please don't dump your dog -- there are shelters and rescues to surrender your dog to. It's a difficult process for rescues to obtain vet care and make a dog available for adoption without a release from the owner. When Rufus joined HCW - he was abandoned with his collar but no identification tag. Although he was microchipped, it was not updated with the current owner information. Eventually we were able to locate the current owner, but she would not return our calls so we're not able to get Rufus' vet records. Rufus was adopted by a marvelous family. He had a fur sister too, and was one loved and happy boy.
Dog Tag Art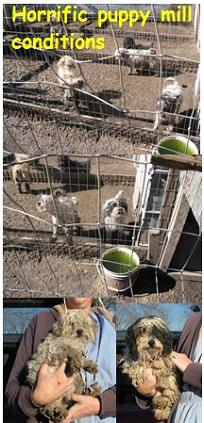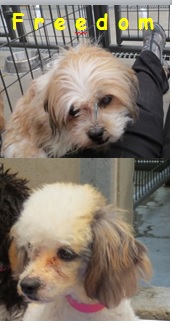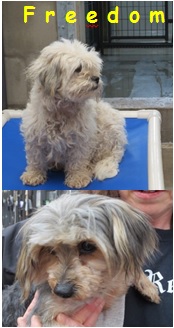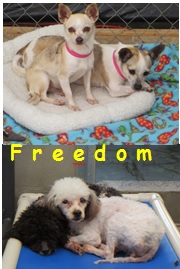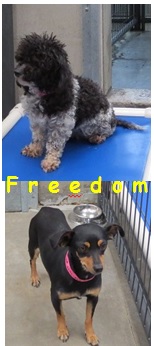 Puppy Mill Rescue
In January 2013, HCW helped save dogs from a puppy mill. Link to the National Mill Dog Rescue (NMDR) blogspot with photos. Here's Marian's (our Animal Care Manager) letter. Thanks so much to Marian! And welcome to Freedom - George, Misha,Velvet, Summer, Coco, Mister, Fluffy, Ginny, Ritz, Cheese-it, Gatsby, Sugar, Sydney, Halle and Morgan. Each rescue trip is different. In this situation, National Mill Dog Rescue worked with a local rescuer (Marian) to save these dogs. The following letter was written by her: My name is Marian and I work with a very small rescue and sanctuary in central TN (http://www.heavencanwaitrescue.org/). We specialize in special needs dogs and have no separate facility for housing the dogs. In fact, I am the primary - and sometimes only - foster home. We take dogs that no one else will - old, blind, epileptic, feral ...and that's where my heart is. Shelters from this and surrounding counties contact me when they have dogs they cannot put up for adoption. We also take dogs whose owners have passed away, and occasionally owner turn-ins. Vets contact us about special dogs that have nowhere else to go. I have been involved in shutting down several puppy mills - mostly on my own. The majority of the mills here are small operations, hidden from sight, and not licensed. Each situation is very different and the level of danger for the dogs is also varied. In this case, I felt that going the legal route would result in severe danger and maybe even death for these dogs. I had been talking with the owner of the dogs for about a month, and I was never sure until it actually happened that we were going to get in there. This was on Saturday afternoon - the shelter that is in charge of investigating cruelty situations was closed and would not open until Tuesday at 11 a.m. The forecast for Monday night was 12 degrees, and the high on Tuesday was in the 20's. There was NO food on the premises, the dogs were wet and did not have a dry area to take refuge in, and I could not leave them. Knowing full well that the authorities could not do anything at all if I did not leave the dogs there, I used every means I could think of to convince him that he had to release ALL the dogs to me (not just the 5 he wanted me to take). He finally agreed and, with a lot of roadblocks, a few scares, and a lot of wallowing in filth, we got them - ALL of them that were in the actual mill. Five dogs had escaped from the mill - obviously some time ago, as they were not in the shape the others were in - and we were unable to catch 4 of them. The fifth one got in my van and absolutely would not get out - she was going where ever I was going. Period. I am working several angles to try to get the others, but I am no longer allowed on the property. I have never left even one dog in a puppy mill that I have rescued from, and I do not want to start now. I know that these people belong in jail - which is an unrealistic thought here in TN - and I have prosecuted before, but sometimes you cannot do that and save all the dogs. A rotten choice, but it's really a no-brainer for me. I will keep an eye on this place and call the authorities the very minute that I think he is trying to start back up. He will not do this again if I can help it. I have also forwarded his info and pictures of the mill to the shelter so that they are aware of it. Sending hugs to all the dogs I love and miss already, and to all the great folks at NMDR, and especially to the future families of these wonderful loving forgiving dogs. I could see the love and joy in them and envy whoever is lucky enough to end up with one of them.